VOTE Now on the Proposed Covenant Amendment
Information for voting on a proposed amendment to the Watters Crossing Declaration of Covenants, Conditions, and Restrictions has been sent to each homeowner early this year. All information is also contained HERE. Your vote is important. Regardless of how you vote, we do need everyone's vote. All voting is confidential. There is one vote per Watters Crossing address.
Watters Crossing Residents
Invited to the 2023 Holiday Social

&nbsp&nbspDATE:Friday, December 1

&nbsp&nbspTIME: 6:00PM - 10:00PM

&nbsp&nbspLOCATION: Watters Crossing Clubhouse Grounds


Whether you are a long-time Watters Crossing resident, or new this year to the neighborhood, please bring your family for an evening to visit with your neighbors at what many consider to be our best event.
| | | |
| --- | --- | --- |
| Snacks | Caricaturist | Holiday Music |
| Hot Cocoa Treats | Cold Beverages | Food Trucks* |
| Balloon Artist | Yes, Snow! | Bounce house |
| Hayrides | Photos with Santa | Bounce house, 5 and under |


*Food for purchase will be available at the popular returning food trucks, Hot Potato and Tacos McKinney. Dress warmly for the timed entry hayride tours thru the neighborhood of holiday lights. Santa returns this year for photos! (The event is dog friendly).

Upon arrival, please go to the Welcome Booth for admission, a wristband, and a hayride ticket. You must have a wristband for the event.

Admission to the Holiday Social is 4 canned / dry goods for donation to the ACO. Drop at the Welcome Booth.

Remember, this event is for RESIDENTS ONLY of Watters Crossing. No guests are permitted.

We need volunteers! Activities in Watters Crossing are made possible thru volunteers. SIGN UP HERE to volunteer for the Holiday Social. Spots include set-up, concessions, hayride attendants, clean-up, and more.

We are happy to say that the Watters Crossing 2023 Holiday Social is again being sponsored by Plano Tree Care
Season For Trimming Trees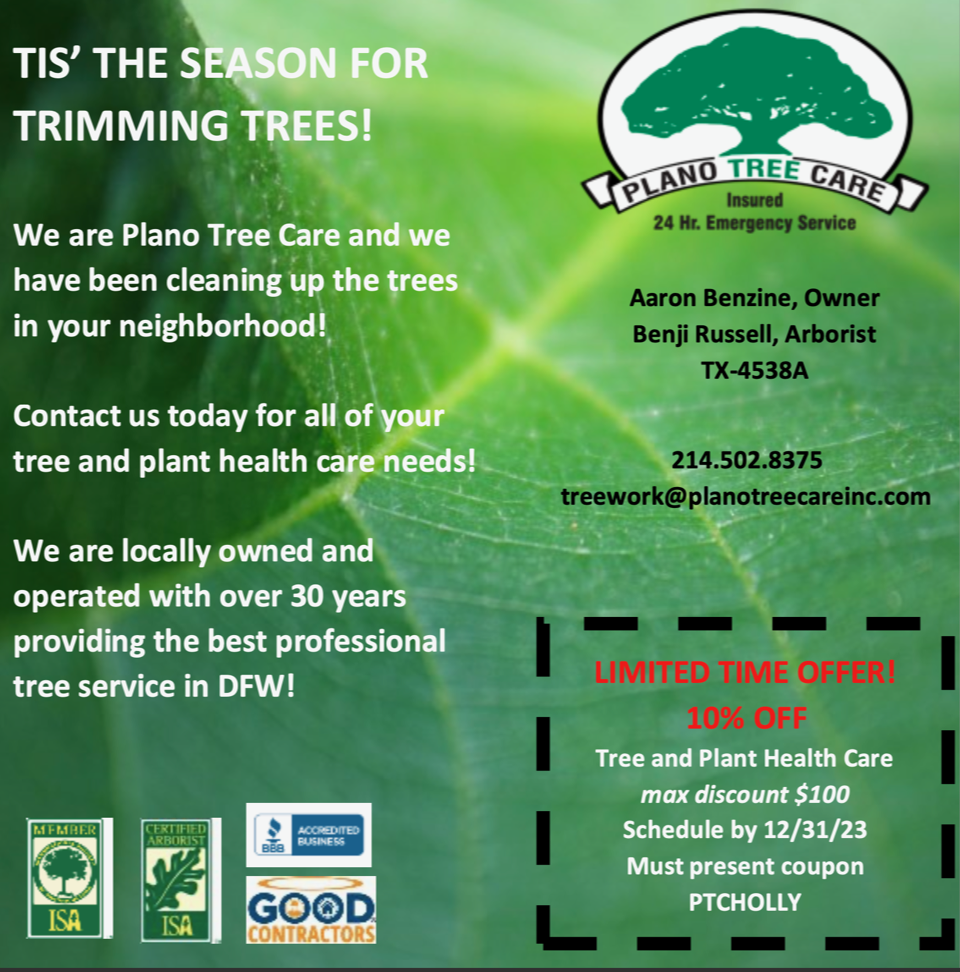 ACC Reminders Roof Replacement
All exterior improvements must be submitted to the Architectural Control Committee (ACC) for review and approval prior to any work commencing. This includes all roof replacements. Please submit a Roof Replacement form from www.watterscrossing.com when planning on roof replacement. Guidelines for Roof Replacement are located HERE.

The ACC does expedite roof reviews. Note that the most common roof color in Watters Crossing is typically referred to as "Weathered Wood".

Also, no contractor signs are permitted at any time in Watters Crossing. Installations of such signs will result in violation letters to the homeowner. We appreciate your help with this.
Updated Park Re-opens
Bring the kids to the updated Phase III Playscape. Located at Bel Air Drive and Placer Drive, amenities at the renovated park now include:
New benches and picnic tables
Charcoal grilling station
Six adult exercise stations
Cornhole (bring your own beanbags)
Checkers, Backgammon, and Chess boards (bring your own game pieces)
Gaga Ball Pit
Original play equipment, swings
Free Little Library
Plan a picnic. Fire up the grill and have a good time
Trees and the Contractors who "Trim"
We would alert homeowners to use caution when selecting anyone to trim your trees. There are many groups driving the neighborhood offering the service of "tree trimming". Please ensure you research who you are using. Yes, you can get a lower price, but results can be a problem. Some flags to look for:
The contractor leaves all the limbs and debris from the trimming. The City of Allen requires that all contractors trimming trees remove from the property all trimming and debris.
The "trimming" results in stumps

Limbs should be trimmed to natural joints. When stumps are left, typically the stub will rot back to the tree. This is usually after it has sent out multiple suckers. The canopy of the tree is destroyed.
The overall limb structure is weakened, making the tree susceptible to ice and storm damage
READ MORE HERE
2023 CALENDAR OF EVENTS FOR RESIDENTS OF WATTERS CROSSING
All dates subject to change or cancellation. Updated 3/15/2023
| | | | |
| --- | --- | --- | --- |
| EVENT | DATE | LOCATION | TIME |
| Holiday Social | Friday, December 1 | Clubhouse | 6:00 PM-10:00PM |
| Judging for Holiday Lights | Week of December 17 | Neighbourhood | 7:00PM |
WCHOA Board Meets 7:00 PM 3rd Monday of every month.
ACC meets 7:00 PM last Tuesday of every other month (odd numbered month).
WCHOA Playgroup meets every Friday.
Join the community list. Visit www.watterscrossing.com
Local Weather
Get WCHOA Email !
WCHOA broadcasts, via E-mail, newsletters, important bulletins, events, and developments that may affect our community. This is the fastest way to disseminate information throughout our neighborhood.
Any information you provide remains confidential and undistributed.
Sign up for WCHOA email
WCHOA Crime Watch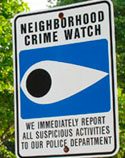 Pool Alert: It has been brought to our attention that there is a black market for pool equipment at the present time. Pool equipment is being stolen from backyards, even during the day. Please keep your fence locked and be aware.
To report suspicious, non-life threatening activity, please phone the City of Allen Non-Emergency number at 214-509-4321
Also, please visit the link below for further information:
City of Allen Police Community Relations
To ask a question concerning recent illegal activity within Watters Crossing, or to inquire regarding any rumors which you may have heard, please email crimewatch@watterscrossing.com. Your letter will go to the Watters Crossing Crime Watch Leader, who, in consultation with the City of Allen Police, will determine if the community should be alerted via the Watters Crossing web site and Watters Crossing email.
Crime Watch Tips
Make sure doors and windows are locked.
Make sure shades or window covers are closed when leaving the house.
Make sure alarm systems are set, operating properly and monitored.
Close garage door when you are out of the garage.
Make sure vehicles are locked when vacant
Do not leave valuables of any type in vehicles
Know your neighbor and look out for each other in a helpful way.
Streetlights in Watters Crossing are not maintained by your Homeowners Association. They belong to, and are maintained, by Oncor Electric. Problems, including lamps not working, can be reported online at
www.oncor.com Phone calls can also be placed to.
Did You Know?
All Watters Crossing Homeowners Association offical information is available and posted only at www.watterscrossing.com The Watters Crossing HOA does not support nor endorse comments, opinions, and other actions on social media sites.
Questions or Problems?
Information for questions or problems for Watters Crossing Residents Click Here
Save Your Pool Cards
Please remember to retain your Pool Access Cards for future use.. Pool cards will NOT be reissued. The cost of a replacement card is $25 and is limited to one card per address. For replacement cards, please email: poolaccess@watterscrossing.com

Pool Rules